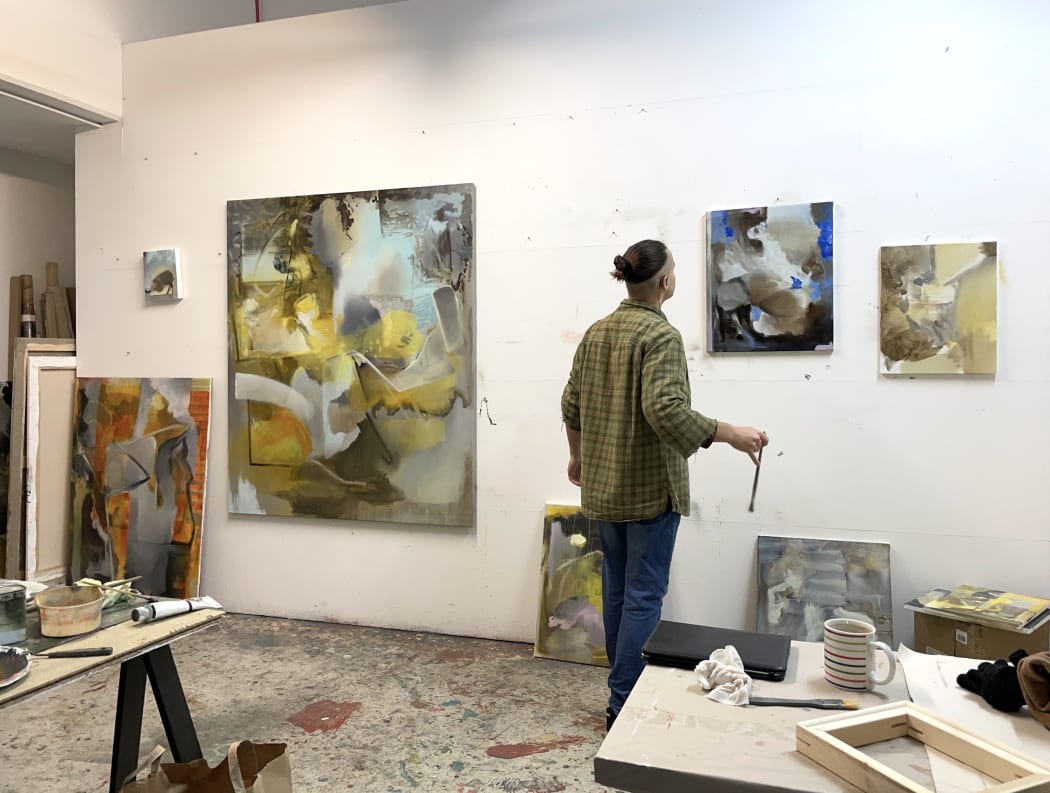 The exhibition of works that have come to light in London are shown now, in winter 2022, in Brussels, at the Husk Gallery. Despite the ongoing pandemic, the world from these West European perspectives feels connected, it is quite easily to change places and decide to live and create in a different city or country, right? But what is the process of grounding? What is it in the atmosphere of a town that calls us to settle there or not? Jan and I are talking in the Ixelles café on a calm winter mid-morning shortly after the vernissage.
There are leading, moving themes in the art of a generation, a lifetime. The ones that invite an artist into a dialogue because of their intensity, appeal, urgence. Cultural, historical contexts are vital, though the themes are mostly universal. Which are yours, Jan? The ones moving your heart and brush?
"Well, sure that the pandemic has changed our perspective and forced us to undergo many necessary changes and adapt to the palpable uncertainties of our times. We became connected through isolation and isolated despite being connected at the same time and thus much more aware of our own fragility. These topics which have influenced us all. In my recent work I deal with a sense of displacement in the context of contemporary shifting perceptions of human to non-human worlds. This manifests in my painting as a naturally shaken subject position, translucent layers of ambiguous and imagined spaces and fluidly sublime territories."
Jan´s palette includes rich tones of violet and sunlight yellow, warm brown, with a disturbing line of red running horizontally in one painting, like a vein; lately Jan has added a substantial presence of greys. Grey is associated with urban, with human addition to the environment. Paintings are landscapes, though abstract ones. I can stand in front of them and dive in, at a certain moment, a distinct spot in the painting asks me to enter – the way I enter deeper layers of the mind in meditation.
"Flying in an airplane between two cities, the daybreak in the east, the dusk in the west, and I realize I can never achieve the palette of the sky in that moment. Every painting is an attempt to approach an ideal, knowing it will never happen. When it is done, it is over, and I begin anew, from a zero point. It is always a surprise to see the paintings out of the studio, hanging in the gallery. I see them differently, from a distance."
Creative process is mysterious, that is why many of us love to meet the authors, creators of works. Nevertheless, to create means mostly to show up and work. The outcome is unknown, never completely satisfying, never complete, in fact. And still, to create is to trust the flow itself. It is wholesome that one also needs to run errands, do chores and pay bills. Otherwise, there is a danger of losing the ground.
"London is huge, it runs the wave of here and now, there are almost no limits, it is an open process. It might be overwhelming and liberating. Depends. It is a huge multi-cultural maze and still, the administration and practicalities can be super easy. Refreshingly easy compared to Brussels and Bratislava."
You have also been drawing in London, right? In the time of quarantine. Some of the drawings are part of the exhibition, they remind me of urban landscapes – pieces of rails, shapes of buildings or their remnants.
"That's right. I moved to London in between two lockdowns of all times. The experience was unforgettable and I guess unimaginable for many. Somehow it was a flow of things, really. Well, here I was, self isolating and it was only natural to start to use drawing as an introspective tool in which I focused my attention. Yes, it reflects some structures of non-descriptive and indefinite spaces which I absorbed during the first year in London."
You plan to stay in London for some time where another exhibition is on. And others are planned. Success, achievement, fruit, is encouraging and anyhow, the courage is to move on, to go on exploring from a fresh new start. Not only artists, all of us. The journey is the present moment step.
"London is absorbing. It just makes you busy and involved. The pressure is on from all sides. Yet I am skeptical to talk about success or achievement; somehow, in 1990's Slovakia, we grew up with confused values in terms of achievements. That's sadly also our post-Communist heritage and it just lingers. But back to the point, yes, I plan to stay here, taking it step by step as Danish philosopher Kierkegaard mused: "If I were to wish for anything, I should not wish for wealth and power, but for the passionate sense of the potential, for the eye which, ever young and ardent, sees the possible. And what wine is so sparkling, what so fragrant, what so intoxicating as possibility? Pleasure disappoints, possibility never."
Katarina Varsikova is a writer and yoga teacher based in Brussels since 2005. Katarina's blog clearly shows she's in love with the town of rainy reputation, which still holds secrets for her. >>>https//: varsik.sk
The solo exhibition SHIFTING PLACES by Jan Valik at Husk Gallery in Rivoli Brussels runs until February 26th, 2022.